To kick off this series of essential Australian films made before 1980, it's best to start at the very beginning. The Story of the Kelly Gang was not just the first feature film made in Australia, but was the first feature film made in the world. It marked a brief boom for Australian film that regrettably ended during the First World War. It was, by international standards, a thriving and innovative period, but after 1914 American films became an increasingly cheaper alternative. By 1923, 94% of the films exhibited in Australia were imported from Hollywood.

Sadly, most of the film has gone missing or been destroyed over the years, and only about 9 minutes of footage survive. Shot in Victoria, where Ned Kelly and his gang lived, and using Kelly's real armour suit, the producers aimed for complete authenticity (they had to apologise for dressing the police officers in uniforms, which apparently wasn't done in the bush at the time, but they had no other way of identifying who was a cop and who wasn't in the film). It was directed by Charles Tait and starred Geoffery Cass as Ned and Elizabeth Tait as Kate Kelly. Charles' brothers were the producers of the film and were also theatrical entrepeneurs. The majority of the film was shot on their family estate just outside Heidelberg.

According to Screen Sound, there were no intertitles at the time. Instead,a lecturer gave commentray and made behind-the-scenes sound effects. There was apparently also a program given to the audience including the synopsis of the movie - and, how wonderful, ScreenSound has put the whole thing up on the internet. Here's the second page, after the cover:






The film has been criticised for glorifying criminals, and was banned in a couple of Australian towns, most notably in Adelaide. It's not surprising that the film does glorify Ned and heap criticism on the police - most depictions of the story have had a similar bent. Kelly has been, and remains, an Australian icon throughout the decades, so much so that a new film has been made about him in nearly each decade since, the two latest being Ned and Ned Kelly starring Heath Ledger, both released in 2003.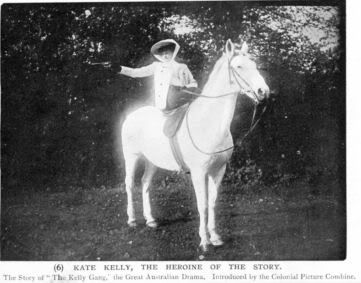 Elizabeth Tait as Kate Kelly



Geoffery Cass as Ned Kelly is arrested by the police.

More pictures at Screen Sound. Go search the collection to find more stills and copies of the original synopsis booklet.